605-8 Pine St.

Hillsville

,

VA

-

24343




(276) 730-3130



Fax Number:

(276) 730-3135





citizen.services@dss.virginia.gov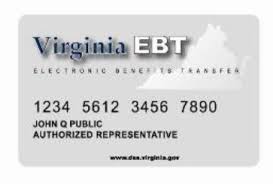 Supplemental Nutrition Assistance Program (SNAP) serves as the first line of defense against hunger for Virginia residents.

SNAP can be used like cash to buy eligible food items from authorized retailers. Authorized retailers will display either the Quest logo or a picture of a Virginia EBT card.

It enables low-income families to buy nutritious food with coupons and Electronic Benefits Transfer (EBT) cards.

The program is the cornerstone of the food assistance programs, and provides crucial support to needy households and to those making the transition from welfare to work.  

A SNAP account is established for eligible households and automatic deposits are made into the account each month. To access the account, they will also receive an EBT Card, which will debit the account each time eligible food items are purchased. A secret Personal Identification Number (PIN) is required to use the card.

Please note the following:

   A manual application cannot be processed and is not considered complete until it is signed and received by your local department.
   An interview will be required unless you meet the conditions for a waiver . Proof of identity (driver's license or picture I.D.), residence, income, resource and shelter expenses will be required.
   Applications for Temporary Assistance for Needy Families (TANF) or General Relief, are considered an application for SNAP, unless you request otherwise.
   If all members have applied for or get Supplemental Security Income (SSI), you may also apply for SNAP at the local Social Security office.